We have a limited user license for
Bluebook Online
. Please write to
glus@jgu.edu.in
for login credentials.

You can issue the hard copy of the 18th and 19th editions of Bluebook from the library.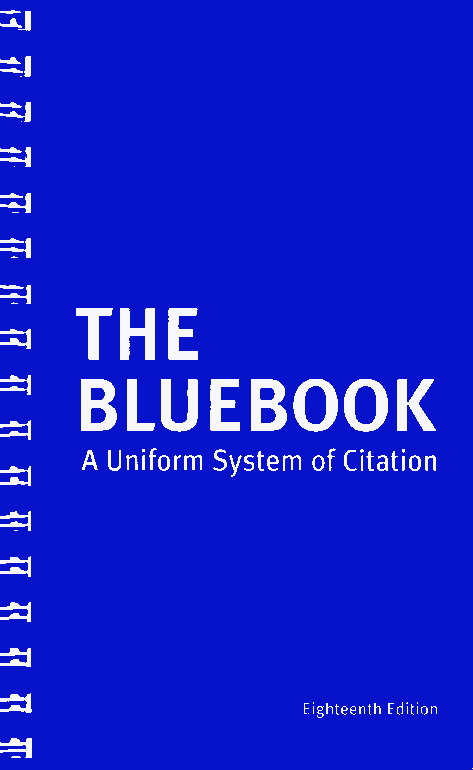 You can find the Bluebook with the call number 348.027 BL- in the main library.
Please see our
library catalogue
to check the availability of the Bluebook hard copy.
If you need assistance from the library related to Bluebook access and understanding the features, please write to
glus@jgu.edu.in
Understanding and knowing how to cite cases is an essential skill for anyone studying, researching, or involved in legal matters. These features help the reader understand the case's aspects and information, as well as get basic information at a glance. The primary purpose of a legal citation is to assist the reader in quickly locating the cited source. In some circumstances, strict adherence to citation schemes is required, and lawyers should strive to make their papers as polished as possible.

The Bluebook is a style manual that governs how legal documents in the United States are cited in legal memoranda, court documents, and law journals. It is Compiled by Columbia University, Harvard University, the University of Pennsylvania, and Yale University.

Erwin Griswold, then an editor of the Harvard Law Review, compiled the Bluebook for the first time in 1926.

The Bluebook's current edition is the 21st, which was released in 2020.
Layout & Structure of Bluebook
The process of editing and checking the form of legal citations to ensure compliance with the Bluebook's provisions for legal citation standards is known as
Bluebooking
.
The Bluebook is divided into three sections:
Bluepages: provide simple guidance for everyday citation needs. The Bluepages contain condensed versions of the full rules.
Whitepages: The heart of the Bluebook. It includes citation rules and styles. As of the 21st edition, there exist 21 rules for citation of specific kinds of authority such as cases, statutes, books, periodicals, and foreign and international materials.
Tables: The tables show which authorities to cite and how to properly abbreviate.
​Bluebook Online was created in response to a long-standing request from legal practitioners, law students, and scholars to make Bluebook more accessible to search, use, and teach.

It enables practitioners and students who have jurisdiction-specific or publication-specific citation rules to incorporate them into their group, as well as making a critical tool of legal writing fully accessible to the visually impaired.

The online version is intended to respond to the evolving needs of the legal community by addressing a broader range of evolving foreign, international, administrative, and electronic materials than the print version.