Are you a Cinema lover? specifically in Indian Old films? This online archive is for you.
​
Indiancine.ma
is an annotated online archive of Indian film. It is intended to serve as a shared resource for film scholars and enthusiasts in India and beyond. An online archive of densely text-annotated video material, primarily footage and not finished films, that was set up by members of CAMP, Mumbai The Alternative Law Forum, Bangalore and 0x2620, Berlin in 2008. Indiancine.ma was originally set up using Ashish Rajadhyaksha's and Paul Willemen's Encyclopaedia of Indian Cinema, published in 1999 by the British Film Institute. It was launched in 2013.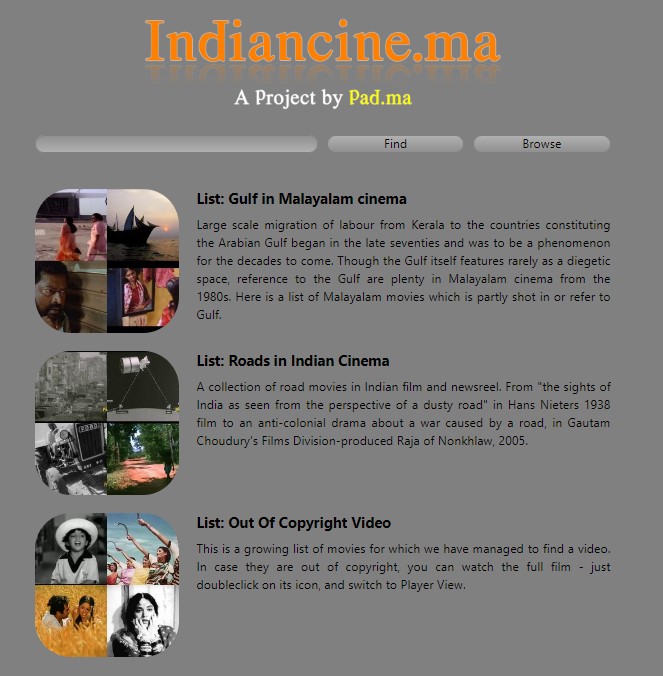 Indiancine.ma has created unique links for more than 60,000 films. They upload as many as 15,000 titles, with a primary focus on early (i.e. pre-1957) cinema. Even this astonishing target will still be only 30% of all feature films made.
All Movies: 63,284+
Personal List

Black & White List: 6,563
Silent Films: 1,582

Featured List

Encyclopedia of Indian Cinema: 24,759
Roads in Indian Cinema: 81
Out of Copyright Films: 1210
1957 : 120
Bombay Talkies: 3
The new Cinemas Projects:114
Communist Films from Kerala:59
Films annotated by the media lab Jadavpur University: 37
Annotation project supported by the University of Chicago: 21
Devdas' final return: 4
Movies with videos: 9619
Silent Films
Indian Language films

Assamese
Bengali
Bhojpuri
Bodo
Dari
Gujarati
Hindi
Haryanvi
Kannada
Kashmiri
Khasi
Konkani
Ladakhi
Marathi
Malayalm
Manipuri
Nagpuri
Oriya
Panjabi
Rajasthani
Sanskrit
Sindhi
Telugu
Tamil
Tulu
Urdu

Foreign Language films

Arabic
Afrikaans
Burmese
Chinese
Czech
Dutch
Danish
English
Filipino
Georgian
Hebrew
Indonesian
Japanese
Norwegian
Russian
Serbian
Swedish
Thai
Turkish
Uzbek

Year cover: 1897-Present