The database is accessible from anywhere, whether you are on campus or remote.
In-Campus Access
To access it on campus, go to the Global Library website and click on
Taylor and Francis.
Remember to connect to the campus Wi-Fi.
Off-Campus Access
If you are accessing off-campus, go to the
Remotlog
portal and log in using your JGU email.
Global Library has access to the
selective contents
of Taylor & Francis. The table given below provides you a brief details of the subjects and articles that are fully accessible to the JGU. Apart from the mentioned subjects, we also have access to selective contents in the field of Engineering & Technology.
Subjects

No. of Articles ( till July 2023 )

Area Studies
109,134
Arts
47,715
Behavioral Sciences
164,891
Bioscience
254,187
Built Environment
51,016
Communication Studies
40,061
Computer Science
56,835
Earth Sciences
104,391
Economics, Finance, Business & Industry
164,841
Education
193,180
Environment and Sustainability
136,895
Geography
100,630
Global Development
53,473
Health and Social Care
102,503
Humanities
215,480
Information Science
20,218
Language & Literature
67,773
Law
31,335
Mathematics & Statistics
131,829
Medicine, Dentistry, Nursing & Allied Health
250,003
Museum and Heritage Studies
6,556
Physical Sciences
241,501
Politics & International Relations
181,924
Social Sciences
178,777
Urban Studies
33,259
Taylor and Francis Online Journals and Articles
Taylor & Francis e-journals are a valuable resource for researchers and students who need access to high-quality, peer-reviewed journal articles. Global Library has a subscription to over 1000 journals of Taylor & Francis that cater to the need of our JGU family.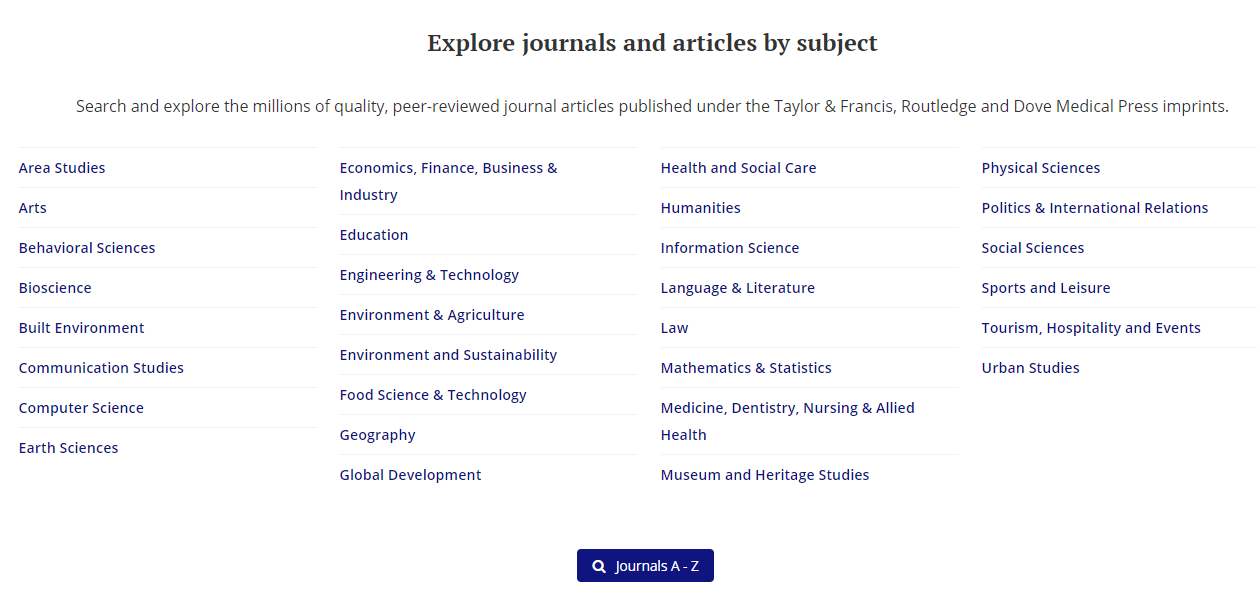 Trending Research
You can find the trending research articles on the Taylor & Francis e-journal homepage.

Access to Taylor & Francis is IP based.
Hence, separate login credentials are not required.
On the home page, you will find the basic search option to search for journals and articles using keywords. Author name. title, DOI, etc.
You can also use the advanced search feature to do a combination search.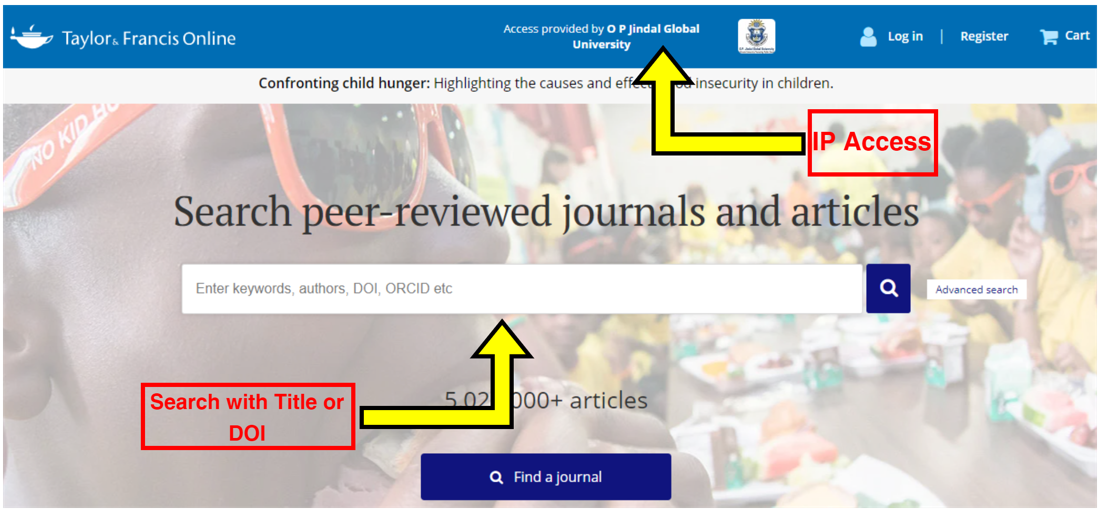 Identifying the articles that we have access
The article with an open
padlock (ꗃ)
icon means that the article is open access. It can be accessed from anywhere by anyone without any subscription or payment.
The article with a
Check mark (✓)
in the green background means library has subscribed to that particular journal and has full access to the content.