How to Access EBSCO eBooks?
The books are available through IP based Access.
With the help of IP access, one can directly access them using the eBook link without any separate credentials.

Off-Campus Access
Use the
LINK
to log in to our remote access gateway with JGU provided email account and go the list of eBooks resources, you may select EBSCO eBook database and you can access the same without any separate credentials.
Search books in EBSCO eBooks database
To access the book, click on the database link and
select EBSCO eBook subscription Academic Collection then enter the book title in the search bar. The available book will be displayed on the screen. For remote access, Click on the LINK
The database is a single window for all the required book titles of all disciplines taught and learned in JGU. The Ebooks are focussed on the student's essential courses where, most of which are taught and recommended by JGU faculties.

EBSCO eBooks consists of around 141,000+ latest ebooks of renowned publishers like MIT Press, Texas A&M University Press, Brookings Institution Press, State University of New York Press, Cambridge University Press, Springer, Ashgate, Wiley, University of Chicago Press and the like.
Search for eBooks in Library Catalog
To locate a specific book, enter its title in the search bar and select the corresponding result. Look for the option labelled "Online Access" and click on it. This link will redirect you to the complete book within the EBSCO eBooks Database from Inside the Campus.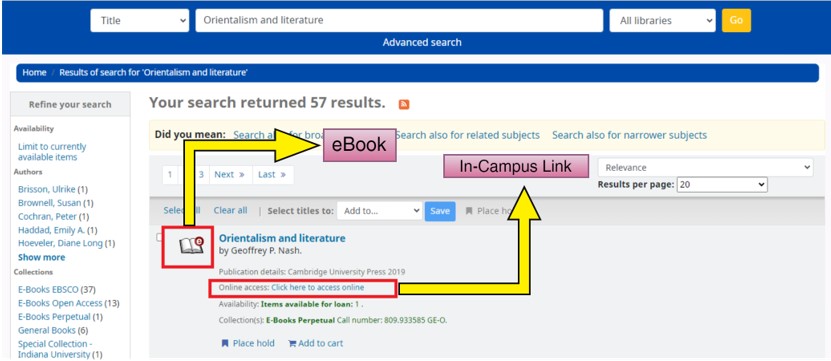 To access from off-campus, log in to remotlog and search the book title in the database. there are no separate credentials.
Global Library has more than 3,00,000 Ebooks in its collection out of which, EBSCOhost contains the majority of the classroom-recommended books that are course-related and subject-disciplinary. As much as print is focused, large number of ebooks have been accessible for both in and off-campus students.
All our resources can be accessed off-campus. students who are doing their internships, part-time PhD, and Online attendees can simply access with one single sign-in at
remotlog
Download Full Books from EBSCO
Stay connected to JGU-WIFI, If off-campus, log in to remotlog.
Go to EBSCOhost and click on EBSCO eBook subscription Academic collection
Sign in/log in using your JGU mail ID and create your own password.
Get Adobe Digital Edition software for your device