The National Archives of India is the custodian of the records of enduring value of the Government of India. Established on 11 March, 1891 at Calcutta (Kolkata) as the Imperial Record Department, it is the biggest archival repository in South Asia. It has a vast corpus of records viz., public records, private papers, oriental records, cartographic records and microfilms, which constitute an invaluable source of information for scholars-administrators and users of archives. National Archives of India has one Regional Office at Bhopal and three Records Centres at Bhubaneswar, Jaipur and Puducherry.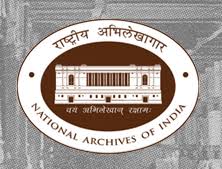 To know more: National Archives of India
The holdings in the National Archives are in a regular series starting from the year 1748. The languages of the records include English, Arabic, Hindi, Persian, Sanskrit and Urdu, and their materials include paper, palm leaf, birch bark and parchment.
The records are in sixteen categories: Public Records, Oriental Records, Manuscripts and Private Papers, Cartographic Records, Defence, Education & Health, Home Education, Home Index, Library collection, Home Political etc.
The records are in sixteen categories:
Cartographic Records - 207
Defence Records - 6095
Dr. Rajendra Prasad Records - 48
Education & Health -6150
Home Education - 3153
Home Index -95
Library collection -411
Home Political -28035
Kasturbhai Lalbhai -4
Ministry of Education -5025
Public Records -79114
Oriental Records -8
P.K. Malviya -4428
Private Papers -7424
Reference Tools -87
S.C. Dixit -19
ACCESSIBILITY AND MEMBERSHIP