Are you interested to know about the industrial Tata Group? We will suggest you go through this Tata Central Archives. You may find it more interesting.
This museum traces the history of the Tata Group, highlighting its key milestones, growth, and contribution to the development of industry in India.
Created in order to convey the legacy of the Tata Group through various media, the Tata Central Archives was created by Jehangir Ratanji Dadabhoy Tata in January 1991. The museum was inaugurated by Ratan Tata on February 13, 2001.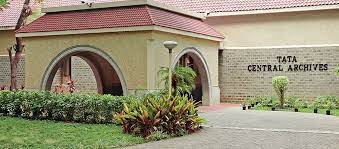 Print & digital documents
The document section of the museum has more than 15 lakh documents in print or digital format, including formation papers, annual reports, board minutes, accounting records, legal papers, biographies, projects, speeches, journals, and advertisements. One of the oldest artefacts is an annual report of Jamshetji Tata's first venture from 1875.
https://www.tatacentralarchives.com/our-collections/documents.html
Photographs
The photograph section has more than 75,000 print and digital photos, some of which date back to the 19th century. These are divided according to subject matter, such as the company, people showcased, and what has been donated by external patrons.
https://www.tatacentralarchives.com/our-collections/photographs.html
Multimedia
The multimedia section has a collection of more than 200 audio and video recordings of various Tata companies, institutions, and personalities. An important part of this section is a collection of speeches by stalwarts like J.R.D. Tata, Dr J.J. Bhabha, and Nani Palkhiwala, among others. As many of these recordings are very old and fragile, the Tata Central Archives has a very strict set of rules for its use.
https://www.tatacentralarchives.com/our-collections/multimedia.html
Memorabilia
The memorabilia section houses paintings, artefacts, furniture, awards, medals, and citations received by Jamshetji Tata, Ratan Tata, and other personalities from the Tata Group. A prominent artefact is the Bharat Ratna medal (the highest civilian award bestowed by the Republic of India) and citation awarded to J.R.D. Tata It also displays the attire worn by him to attend some of these ceremonies.
https://www.tatacentralarchives.com/our-collections/memorabilia.html
ACCESSIBILITY AND MEMBERSHIP